Maharaja Ranjit Singh Movie
Maharaja Ranjit Singh - Punjabi Film
Banner: Babbar Films Pvt. Ltd.
Music Director: Chitraarth Sikander Bharti
Lyrics: Surjit Patar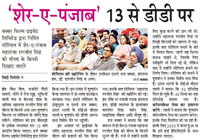 After making a television serial on Maharaja Ranjit Singh, actor-politician Raj Babbar is determined to fulfil his dream of making films on eminent Sikh rulers although the budget of one movie has touched a whopping Rs.125 crore.
Babbar also hinted that the title of the film will be "The Lord of Five Rivers: Maharaja Ranjit Singh".

The music of this film is ready.
Track list:
1. Sukhwinder,Hans Raj Hans & Chorus – Yeh Wohi Sarzameen Hai (Part-1)
2. Hans Raj Hans – Heer (Heer Akhdi)
3. Richa Sharma & Chorus – Charkha
4. Jagjit Singh – Yeh Wohi Sarzameen Hai (Sad)
5. Hans Raj Hans – Heer (Ranjha Akhda)
6. Mohammad Vakil – Balma Re Chunaria
7. Hans Raj Hans – Heer (Heer Kho Kehde)
8. Sukhwinder,Hans Raj Hans & Chorus – Yeh Wohi Sarzameen Hai (Part-2)

Animated film on Maharaja Ranjit Singh
Toronto: Punjabi history has now been recreated in the animated hour long movie, 'Maharaja – the story of Ranjit Singh. . Directed by Amarjit Virdi – an enthusiastic historian- and created by Mustard Fields, in association with Finelines, the animation hopes to reach out to young children and people everywhere.
The film portrays Maharaja Ranjit Singh from childhood to his days of brave soldiery that contributed enormously to Punjab. It depicts Ranjit Singh's fearless acts as he defeats his enemies and unites the Sikhs by producing the Khalsa rule. "I've made this film for the new generation without distorting the fearless and self-respecting character of Punjabis," says Amarjit Virdi.
The film took two years to create, extensive research, many drawings and a team of 15 individuals. "The animation filmmaking is a tiring process. But it brings you pleasure when you see the lines taking the shapes of characters," tells Amarjit. He wants to show young kids that there is more to the Punjabi culture than what is shown in modern day movies and TV shows. He has directed two other animated movies entitled "Sahibzadey" and "The Rise of Khalsa," and believes animation is the perfect medium to use to teach children about the bravery and true essence of Punjabis.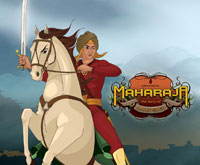 It is important to Amarjit that Sikh children learn to relate to their heritage and roots because the connection is quickly fading. The voice over of Ranjit Singh is done by Gurpreet Ghuggi, others include Rocky Bhardwaj and Gick Grewal. Singers which have contributed to the film include Sardool Sikander and Amar Noori.