Mother Sardarni Raj Kaur
Sardar MAHAN SINGH, married 1774, Sardarni Raj Kaur, a daughter of Raja GAJPAT SINGH of Jind, and had issue. He died 1792.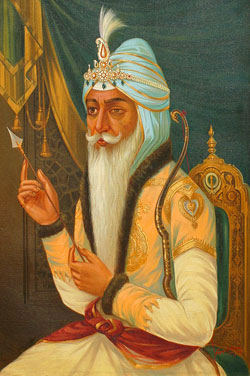 Raja GAJPAT SINGH 1763/1789, born 15th April 1738, Raja [cr.1772], took part in the conquest of Sirhind, Panipat and Karnal, made Jind his capital in 1766, married 1stly, a daughter of Sardar Kishan Singh Monshia, married 2ndly, 1764, his brother's widow, and had issue. He died 11th November 1789.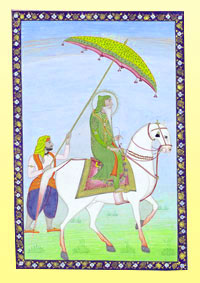 Mahan Singh died in 1792. Ranjit singh was then 12 years old. He was too young to manage the affairs of the estate. His mother Raj Kaur became his natural guardian. He was also helped by Diwan Lakhpat rai. She had full confidence in his integrity but her brother Dal Singh did not like his interference in the administration of the territory. So, Dal singh joined hands with Sada Kaur, Ranjit Singh's mother-in-law who exercised a lot of control over him. Thus two clear cut groups were formed, Diwan and Raj Kaur on one hand, Sada Kaur and Dal Singh on the other side. The intrigues and counter intrigues made Ranjit Singh of all of them. He started spending most of this time outside the house on hunting expeditions. Ranjit Singh also became suspicious of people around him and disliked some of them.