Duleep Singhs Artefacts
BBC Documentary on Prince Freddy's Art Collection
9/12/2011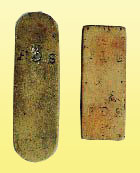 Shoe brushers belonging to Prince Frederick Duleep Singh. Inscribed 'FDS'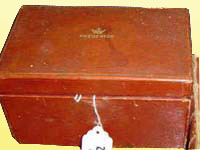 Prince Frederick Duleep Singh's Bridge playing box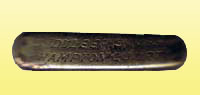 a brass dog tag belonging to the dogs kept by Princess Sophia Duleep Singh at faraday house in

A new BBC documentary 'Hidden Paintings of the East' presented by Meera Syal uncovers Prince Frederick Duleep Singh's personal art collection.
The BBC Norfolk production is the brainchild of Patrick McGrady who has been working on the concept for some time. The programme is to be presented by writer and comedian Meera Syal, and has been shot on various Norfolk locations associated with Prince Frederick, including Elveden, Old Buckenham, Thetford and Blo Norton. It will feature key writers and researchers in the field including Journalist and author Christy Campbell. Patrick even managed to find an 96 year old Norfolk resident who had met Prince Frederick as a child.
SOVEREIGN, SQUIRE & REBEL
The definitive book on the life of Maharajah Duleep Singh and his children , titled, SOVEREIGN, SQUIRE & REBEL; MAHARAJA DULEEP SINGH, traces a fabulous photographic history with groundbreaking research and unssen images reprodcued in full colour. The book has as received outstanding internationl reviews and was shorlisted in the East Anglia Book Awards.
DULEEP SINGH'S RESIDENCE AT FATEHGARH PARK
The Maharajah spent four years of his life at Fatehgarh in Uttar Pradesh, India, after he was removed from the Punjab in 1850. On Peter Bance's recent visit he uncovered some monuments to the Maharajah's residence here between 1850-54.