Maharaja Duleep Singh
1843 after the violent upheavals in the Punjab caused by the death of Ranjit Singh, his only remaining son, the seven-year-old Duleep Singh, became Maharaja.
After the Anglo-Sikh war and the annexation of the Punjab by the British in 1849, Dalip Singh was separated from his mother, Rani Jindan. She was regarded by the British as a dangerous influence on the young boy. He was given into the care of Dr John Login and they moved to Fategarh, a remote provincial town in north India. Removed from his cultural roots and living in a predominantly Christian household, Dalip Singh converted to Christianity. Soon afterwards, Lord Dalhousie gave him permission to travel to London.
He arrived in 1854, quickly gaining a royal audience and an invitation to stay with the Royal Family at Osborne, where Queen Victoria sketched him playing with her children and Prince Albert photographed him. Winterhalter, the court artist, was asked to paint the Maharaja's portrait.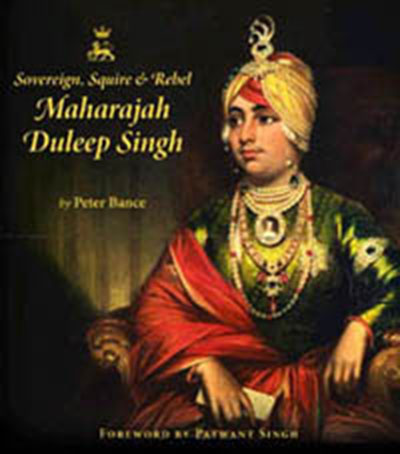 In 1861 Duleep Singh returned to India to rescue his mother from political exile in Nepal, bringing her to London where she died in 1863. On the journey to take her body back to India, Dalip Singh met Bamba Muller, who became his wife in 1864. They lived at Elveden Hall in Suffolk with their children, where the Maharaja looked after his estate and organised shooting parties for his aristocratic friends.
Later in life, as he became increasingly embittered about the loss of his kingdom, he reconverted to Sikhism. He met Irish Fenians and Russian revolutionaries, becoming part of an international web of intrigue to destabilise British power. The plans came to nothing, his health broke down and he died in Paris in 1893, two years after a final meeting with Queen Victoria.

Dalip Singh was crowned to the throne of Punjab in 1843 succeeding his half-brother, Maharajah Sher Singh. After the close of the Second Anglo-Sikh War and the subsequent annexation of the Punjab on 29 March 1849, he was deposed at the age of eleven by the East India Company under Governor-General Hardinge and was separated from his mother, who was imprisoned. He was put into the care of Dr John Login and sent from Lahore to Fatehgarh on 21 December 1849.
The British took, in controversial circumstances, the Koh-i-Noor diamond along with other items of Dalip Singh's family's considerable personal estate, country and religious property (most items were sold by public auction) to Queen Victoria as reportedly part of the terms of the conclusion of the war and the 250th anniversary of the East India Company on 3 July 1850. His health was reportedly poor, and he was mostly in quasi-exile in Fatehgarh and Lucknow after 1849, with tight restrictions on who he was allowed to meet. No Indians, except trusted servants, could meet him in private. As a matter of British policy, he was to be anglicised in every possible respect. While no specific information was released about his health, he was often sent to the hill station of Landour near Mussoorie in the Lower Himalaya for convalescence, at the time about 4 days' journey. He would remain for weeks at a time in Landour at a grand hilltop building called The Castle, which had been lavishly furnished to accommodate him.

Legality of the Koh-i-noor being acquired by the British

The Kohinoor diamond was then given by Dalip Sing as Maharaja Ranjit Singh's successor (who owned it) to Queen Victoria, Indian historians argue that Prince Dalip Singh was only a minor then, and could not have given the diamond away without coercion from his British advisors. Record also says that the confiscated diamond was presented to the Queen-mother by Lord Dalhousie in 1850 through the young exiled Prince.
Conversion to Christianity
Dalip Singh Sukerchakia, the last Maharaja of Punjab
In 1853, under the tutelage of his long-time retainer Bhajan Lal (himself a Christian convert) he converted to Christianity at Fatehgarh with the approval of the Governor-General Lord Dalhousie. His conversion remains controversial, having been effected in unclear circumstances before he turned 15. He was also heavily and continuously exposed to Christian texts under the tutelage of the devout John Login. His two closest childhood friends were both English, one being the child of Anglican missionaries.