New Maharajah Exhibition
The eagerly awaited 'SOVEREIGN, SQUIRE & REBEL' exhibition at Thetford Museum opened on the 18th June 2010, with priceless artefacts from the Sikh Durbar amongst Duleep Singh's personal belongings.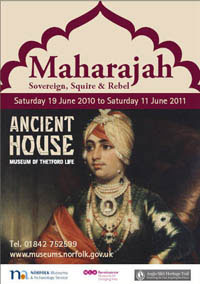 The exhibtion will run for a whole year at the Ancient House at Thetford which was founded by Prince Frederick Duleep Singh, the Maharajah's second son. The Opening ceremony was conducted by the Curator of the Museum, The Mayor of Thetford, and Local Councillors. There was Sikh presence, with represenattives of the Anglo Sikh Heritage Trail, including Dr Harbinder Singh Rana, and also Sikhs Students Association.
..
The exhibition is the first such Maharajah Duleep Singh exhibition with major peices from public and privates collections. Amongst the most lavish items was a pearl and ruby necklace of Maharani Jind Kaur, the velvet jacket of Maharajah Duleep Singh, the vanity box of Maharani Bamba Duleep Singh, the personal note book of the Maharajah, and also the full military uniform of Prince Frederick Duleep Singh when he served for the Norfolk Yeomanry.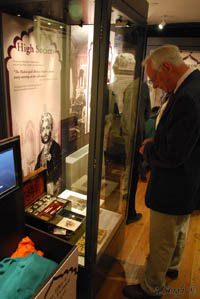 Other items of interest was a replica of the Kohi Noor Diamond, Sikh weapons captured during the Anglo Sikh Wars [from Kings Lynn Museum], Jewellery of the Princesses, rare unseen photos, letters and engravings of the Maharajah, and a watercolour of the Prince's residence at Blo Norton Hall. The museum's permamnent collection which includes the Dalhousie Bible given to the Maharajah, Prince Frederick's photo album and the Gravestone of Mahrani Jind Kaur can also be viewed at the Museum too, together with a an on-screen visual documentary telling the story of the Maharajah.
The exhibition which will run until June 2011, will have additions to its collections during the course of the exhibition. It is hoped that the fabulous painting of the Maharajah painted by George Beechey and presented to the Earl of Dalhousie in 1853 will also feature amongst the addition.
The museum is running workshops, lectures and tours for the special Maharajah exhibition throughout the year. For further information please contact the museum on 01842 752599.