Married to Moran
Moran, a young dancer (nautch girl), hailing from Lahore, it took nearly two centuries to remove the stigma attached to
legendary Maharaja Ranjit Singh, who was declared "Tankhaiyya" (guilty of religious misconduct), by then Jathedar, Akal Takht, Akali Phula Singh for having relations with the Muslim dancer.
The play "Moran Sarkar" ( Moran government) being staged for thefirst time by actors of Lahore, Peshawar and Amritsar at Naat Shala, here on June 30 will be first attempt to establish Maharaja Ranjit
Singh's marriage with Moran not just an act of honour but a conscious effort to rehabilitate a particular down- trodden section of society.After painstaking research Manveen Sandhu, principal of Springdale
Senior school, Amritsar, established Maharaja Ranjit Singh had married the Muslim dancer as part of his social reform movement and to win over other communities.Finishing touches are being given at a theatre workshop organised by the Manch Rangmanch here in collaboration with the National School of Drama, Punarjyot and young theatre artistes from Pakistan by consulting historians of India and Pakistan to avoid distortion in
the script. Bollywood actor Raj Babbar also saw the rehearsal and gave valuable suggestions. Research of Ms Sandhu revealed Moran was not a nautch girl but belonged to a family of entertainers.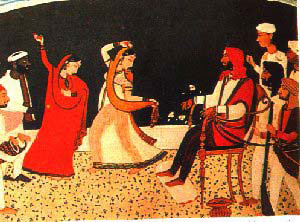 After coin was minted in the name of Moran, she became "Moran Sarkar".As per Dr Fauzia of Pakistan, who has written a book "Taboo" on Lahore's Hira Mandi , the Twaif community of Moran had set of rules
and regulations to ensure its performing art was preserved in its pure form. Moran's charm captivated the Maharaja's heart when he was just 21. His was a transition from physical to spiritual love and attachment.
The Maharaja soon realised the women in Moran's community were being exploited by society. To give a message to society at large he decided to sanctify his love for her by marrying her.
The Maharaja married her in 1802 and they went to Hardwar for a dip in the holy Ganga.Maharaja Ranjit Singh made an effort to uplift Moran's community. Moran's 'biradari' lived in a village called Makhanwindi near Amritsar.
The Maharaja gave the biradari a place near Amritsar city and named it Sharifpura to rehabilitate honour of the community and encourage them to explore other vocations in case they wished to do so.
She led a life of simplicity and piety after her marriage with the Maharaja. She soon became the Maharaja's link with the common man. Moran earned the love and respect of people of Lahore, who
lovingly called her Moran Sarkar. This disturbed many influential people in the Darbar. Moreover society at large was not evolved enough for such a radical change.After 10 years of living in Lahore and contributing to social,
educational and religious fabric of the Durbar, she finally moved away from Lahore.It is important to give Moran her deserved place in history as Pul Kanjari is now going to be part of National heritage circuit.