Duleep Singhs Raj Rani
Dalip Singh was the youngest son of Maharaja Ranjit Singh. He was born of Maharani Jindan on September 6, 1837. At the age of five years he was proclaimed Maharaja of Punjab. According to the treaty of Lahore of March 1846 the British Government was responsible for the administration of the state and the protection of the Maharaja. The British unjustly deposed the child Maharaja. On March 29 1849 at the age of twelve the young Dalip Singh was made to sign over the the sovereignty of the Punjab and relinquish all claims to the property of his kingdom, including the Kohinoor diamond. The Maharaja stepped down from his fathers throne, never to sit on it again.
Maharaja Dalip Singh was still a child at the time of the annexation of Punjab and there was no one to dispense any religious education to him. His companions (AudiyaPrasad, Purohit GulabRai, Fakir Jahurudeen) had absolutely no interest or sympathy with GurSikh Dharam. As a result, the deceitful BhajanLal, a local resident brahmin who had converted to christianity, was given the responsibilities of Dalip Singh's education. Under his influence, Maharaja Dalip Singh adopted christianity on March 8, 1853. A few days prior to adopting christianity, Dalip Singh had presented his hair as a gift to lady Login.
On April 19, 1858, Dalip Singh left for England and started residing at Elveden resident in Norfolk. Dalip Singh married a german lady, Bamba Muller (educated from Cairo missionary school) on June 7, 1864. This marriage resulted in three sons (Victor Dalip Singh, Frederick D.S., and Edward D.S.) and three daughters. Two of his sons were brought up as english gentlemen. The elder, Prince Victor, held a commission in the 1st Royal Dragoons and married a daughter of the Earl of Coventry. He died in 1918 at the age of 58. The younger brother, Prince Frederick was educated at Eton and Magdalene College, Cambridge, where he took history Tripos and later took his M.A. He held a commission in the Suffolk Yeomanry and then transferred to the Norfolk Yeomanry.
He resigned his commission in 1909 but rejoined the corps in 1914 and was two years on active service in France. He was awarded the Territorial Decoration. Prince Frederick was deeply interested in archaeology and became a Fellow of the Society of Antiquaries and contributed articles to various periodicals on this subject. He died in August 1926, at the age of 58. One of Maharaja's daughters married Dr. Sutherland, lived in Lahore, and was popularly known after her parents as Princess Bamba Sutherland.
His mother Rani Jindan who had escaped to Nepal joined him in England where she died in 1863.
His wife Maharani Bamba spoke and understood only Arabic, and in the beginning the Maharaja had amusing difficulties when attempting to converse with his fiancee. She bore him Prince Victor Dalip Singh, (b. 1866, d. 1918), Prince Fredrick Dalip Singh (b. 1886, d. 1926), Princess Bamba Jindan (b. 1869, d. 1957), Princess Katherine, Prince Albert Edward Dalip Singh (b. 1879, d. 1893), and Princess Sophia Alexandria (b. 1874, d. 1948). The children of Maharaja Dalip Singh died childless. Dalip Singh came to India twice and was reconverted to his paternal faith. In 1886 he made an attempt to leave England for good and settle down in Punjab, but his attempt failed and he was not allowed to proceed beyond Aden. He did not return to England and died in Paris in 1893.


Maharaja Dalip Singh.
Maharani Jindan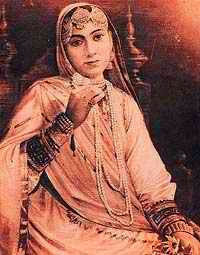 Maharani Bamba soon after her wedding. Married Dalip Singh in Egypt June 1864. Daughter of a German banker and a Coptic Christian slave from Abyssinia.
Princess Bamba 1869 - 1957.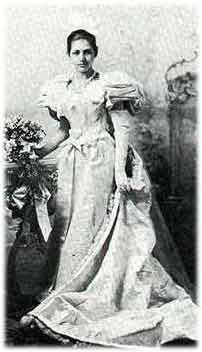 Princess Bamba Dalip Singh, who later married an English gentleman Dr. Sutherland, continued to keep in her custody the collection of paintings and objects of arts, belonging to her father. She died in Lahore on March 10, 1957, without having any issue, and thus her death ended the line of the Sikh ruling dynasty

Princess Catherine. 1889.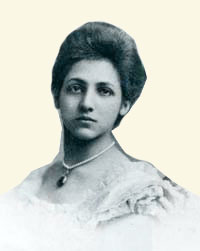 Prince Edward, Maharaja Dalip Singhs youngest son. Died at Hastings April 1893 at the age of 13. He was later buried along side his parents at St Andrews, Eleveden.

Top left : Princess Catherine, Princess Bamba, Prince Edward in a sailors outfit and Princess Sophia. 1886
Princess Bamba Sophia Jindan 1869-1957 and Princess Catherine Hilda Duleep Singh 1871-1942.

The Princesses were born to Duleep Singh's first wife, Maharani Bamba . Duleep Singh spent most of his life in England. He later became anathema to the British by plotting against their imperial interests.