Prince Frederick Victor Duleep Singh
Prince Frederick Victor Duleep Singh MVO, TD, FSA (23 January 1868 - 15 August 1926), also known as Prince Freddy, was a younger son of Duleep Singh, the last Maharaja of the Sikh Empire.
Life and Education
Prince Frederick was born in London as the 2nd/3rd son of Duleep-Singh and Bamba Müller, the former Maharaja and Maharani Duleep of Lahore.
He was educated at Eton and Magdalene College, Cambridge where he read history (B.A. 1890; M.A. 1894). He was deeply interested in archaeology, contributing articles to various periodicals and became a Fellow of the Society of Antiquaries.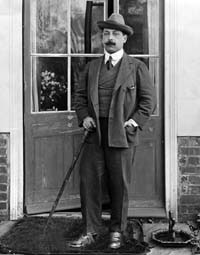 For 20 years he lived at Blo' Norton Hall near Thetford. He was a staunch monarchist, possibly due to his father's generous treatment by Queen Victoria, even hanging a portrait of Oliver Cromwell upside-down in his lavatory at Blo' Norton. His collection of Jacobite and Stuart relics (and the Cromwell painting) were presented to Inverness Museum. He gave to the town of Thetford the timber-framed Ancient House (now a museum) together with his collection of portraits.