Maharaja Ranjit Singh Information
Ranjit Singh belonged to a Sikh clan of Northern India. He was born in Gujranwala, now in modern-day Pakistan, according to some historians, into a Jatt Sikh family and some that he was born into a Sansi Sikh family who were Sukerchakia misldars. As a child he suffered from smallpox which resulted in the loss of one eye. At the time, much of Punjab was ruled by the Sikhs under a Confederate Sarbat Khalsa system, who had divided the territory among factions known as misls. Ranjit Singh's father Maha Singh was the Commander of the Sukerchakia misl and controlled a territory in the west Punjab based around his headquarters at Gujranwala. After his father's death he was raised under the protection of Sada Kaur of the Kanheya Misl. Ranjit Singh succeeded his father at the age of 18. After several campaigns, he conquered the other misls and created the Sikh Empire.
Ancestors of Ranjit Singh
* Bhara Mal (b.1585-d.1679)
* Budha Singh Sukerchakia (b.1680-d.1718)
* Naudh Singh (b.1710-d.1749)
* Charat Singh (b. 1721-d. 1774)
* Mahan Singh (b.1765-d.1792)
* Ranjit Singh (b.1780-d.1839)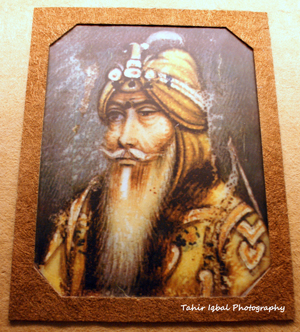 Conquests
Ranjit Singh's earliest conquests as a young misdar (baron) were effected by defeating his coreligionists, the heads of other Sikh Sardaris (popularly known as the Misls). By the end of his reign, however, he had conquered vast tracts of territory strategically juxtaposed between the limits of British India to the left and the powerful Afghan Empire to the right. The land that eventually became the Kingdom of the Sikhs had been ruthlessly subjected to the worse kind of atrocities by invading armies coming through the Khyber Pass into the Indian sub-continent, over eight centuries.
In 1799, Ranjit Singh captured Lahore and made it his Capital. After the capture of Lahore, Ranjit Singh rapidly annexed the rest of the Punjab, the land of the five rivers. Having accomplished this, he extended his empire further north and west to include the Kashmir mountains and other Himalayan kingdoms, the Sind Sagar Doab, the Pothohar Plateau and trans-Indus regions right up to the foothills of the Sulaiman and Hindu Kush mountains.
Ranjit Singh took Amritsar from the Bhangi Sardari and followed this with the more difficult conquest of Kasur, the fabled twin city of Lahore, from the Pathans. With the conquest of Multan the whole Bari Doab came under his sway. In the year 1819, Ranjit Singh successfully annexed Kashmir. This was followed by subduing the Kashmir mountains, west of the river Jhelum (today, Hazara in Pakistan and Pakistan Administered Kashmir). Ranjit Singh built his empire by making deep inroads into the Kingdom of Kabul, defeating the Pashtun militia and the tribes inhabiting the Sindh Sagar Doab and trans-Indus regions.
The most significant encounters between the Sarkar Khalsaji and the Afghans were fought in 1813, 1823, 1834 and in 1837. In 1813, Ranjit Singh's general Dewan Mokham Chand led the Sikh forces against the Afghan forces of Shah Mahmud led by Fateh Khan Barakzai. Following this encounter, the Afghans lost their stronghold at Attock. Subsequently, the Pothohar plateau, the Sindh Sagar Doab and Kashmir came under Sikh rule. In 1823, Ranjit Singh defeated a large army of Yusafzai tribesmen north of the Kabul river, while the presence of his Sikh general, Hari Singh Nalwa prevented the entire Afghan army from crossing this river and going to the aid of the Yusafzais at Nowshera. This defeat led to the gradual loss of Afghan power in the trans-Indus region. In 1834, when the forces of the Sarkar Khalsaji marched into Peshawar, the ruling Barakzais simply fled the place without offering a fight. In April 1837, the real power of Maharaja Ranjit Singh came to the fore when his commander-in-chief, Hari Singh Nalwa, kept the entire army of Amir Dost Mohammad Khan, the Wali of Kabul, at bay, with a handful of forces till reinforcements arrived from Lahore over a month after they were requisitioned.
Legacy and Aftermath
Maharaja Ranjit Singh died in 1839, after a reign of nearly forty years, leaving seven sons by different queens. He was cremated. His ceremony was performed by both Sikh and Hindu priests, his wife Maharani Mahtab Devi Sahiba, the Princess of Kangra, daughter of Maharaja Sansar Chand, the Empress of Punjab, committed Sati with Ranjit's body as Ranjit's head lay in her lap, some of the other wives also joined her and committed Sati. The throne went to his eldest son Kharak Singh, who, as it soon became evident, was not entirely fit and prepared for ruling such a vast empire. A fit successor would have forged an even more durable, independent and powerful empire.The empire began to crumble due to poor governance and political infighting among his heirs. The princes died through internal plots and assassinations, while the nobility struggled to maintain their power.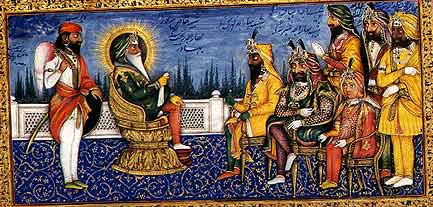 In 1845 after the First Anglo-Sikh War, Ranjit Singh's Empire was defeated and all major decisions were managed by the British East India Company. The Army of Ranjit Singh was reduced, under the peace treaty with the British, to a nominal force. Those who gave the stiffest resistance to the British were severely punished and their wealth confiscated. Eventually, Ranjit Singh's youngest son Dalip Singh, was crowned Maharaja of Punjab in 1843 succeeding his brother, Maharaja Sher Singh. In 1849, at the end of the Second Anglo Sikh War, it was annexed by British India from Dalip. Thereafter, the British took Maharaja Dalip Singh to England in 1854, where he was put under the protection of the Crown. Dalip Singh's mother, Maharani Jind Kaur, escaped and made her way to Nepal where she was given refuge by Sri Teen Maharaja Jung Bahadur Rana of Nepal, who then negotiated on her behalf to allow her to be reunited with her son. Maharani Jind Kaur and her son met at Spence's Hotel, Calcutta, on 16 January 1861, after some thirteen and half years apart. She was granted permission to come to England. A residence was taken up at No. 1 Lancaster Gate (now No. 23).

Jind Kaur stayed for a short while at Mulgrave Castle, later she was placed in the charge of an English lady at Abingdon House, Kensington. On the morning of 1 August 1863, Maharani Jind Kaur died peacefully. Her body was temporarily housed at London's Kensal Green Cemetery, and in the spring of 1864, Duleep Singh left for India and arranged for the cremation of her body.
Portrait of Maharaja Ranjit Singh
In the spring of 1864, Maharani Jind Kaur was cremated at Nasik in Bombay on the Panchvati side of the river. The authorities would not allow Dalip Singh to cremate his mother in the Punjab. On the left bank the Maharaja erected a small samadh built as a memorial in the memory of his mother. For a number of years the Kapurthala State Authorities maintained the memorial until 1924, when her remains were dug out and brought to Lahore by her granddaughter, Princess Bamba Sutherland, and deposited at the Samadh of Maharajah Ranjit Singh.
Dalip Singh was converted to Christianity in his youth, upon reuniting with his mother during his adult years, he reconverted to Sikhism, he then petitioned the Crown to have his kingdom returned. He never received any justice or the respect he deserved. He died in 1893, in Paris, France.
Maharajah Dalip Singh had three sons. The eldest Prince Victor was born on 10 July 1866, followed by Prince Frederick in 1868, and then Prince Albert Edward Alexander Dalip Singh (died at the age of thirteen), who was born on 20 August 1879.
Prince Victor Albert Jay Dalip Singh was Maharajah Dalip Singh's eldest son. He was honourable A.D.C. to Lord Halifax, and was promoted to Captain in 1894, but his military career, however, was a shambles, his interest lay in other things and he resigned in 1898. During the First World War, he was ordered to remain in Paris and not to leave, but shortly after the war ended, Prince Victor died on 7 June 1918, without any issue.
Princess Sophia, the youngest of the Maharajah's daughters. On 22 August 1948, Princess Sophia died in her sleep. Her solicitor arranged for her cremation at Golders Green on 26 August. It was her request that her ashes be taken to India for burial.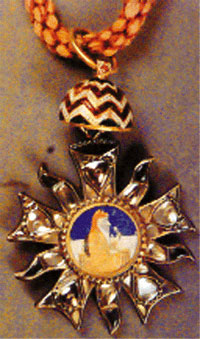 Princess Catherine was born on 27 October 1871, and was named Catherine Hilda Dalip Singh. Princess Catherine died peacefully in her bed on the night of Sunday 8 November 1942 at her home in Penn, aged seventy-one. The cause of death was said to be heart failure. She was cremated.
Princess Ada Irene Helen Beryl Dalip Singh, born on 25 October 1889. Tragically on 8 October 1926, she committed suicide, local fishermen dragged her body from the sea, off Monte Carlo. She was apparently much aggrieved with the death of her brother Prince Frederick who had died two months earlier.
Princess Pauline Alexandrina Dalip Singh, born 26 December 1887, her death was unrecorded, she disappeared in war-torn France during the Second World War.
Princess Bamba Sutherland (Princess Bamba Sofia Jindan Dalip Singh) was born on 29 September 1869 in London, a year after her brother Prince Frederick. In England, Princess Bamba began styling herself as the Queen of Punjab. She was truly her father's daughter and had her father's rebellious nature and seemed to be the more aggrieved one among her siblings. She was the most affected at the realisation of who she was and her ancestry. She was often visited by her cousin Karl Wilhelm, grandson of Ludwig Muller, at Hilden Hall, by which time she was already dreaming of going back to India in order to die there. In his memoirs Karl Wilhelm referred to Princess Bamba as 'the true heiress of Ranjit Singh' meaning that she was most conscious of the actual desperate situation of the whole family. 'She considered the Punjab and Kashmir as the lost possession of her family and was absolutely furious when the border between Pakistan and India was drawn right across the Punjab.' In Princess Bamba's eyes, Pakistan or India did not exist, there was just the Punjab and its capital Lahore. She met distant relatives throughout her travels in India, trying to grasp one last glimpse of the glory that she was denied. She located the families of Wazir Ishwari Singh Katoch of Kangra and Hari Singh Nalwa, both residing in Nabha at the time. She met members of several Hindu and Sikh royal families in an attempt to prevent the division of her grandfather's empire.
On 10 March 1957, Princess Bamba, the daughter of Maharaja Dalip Singh, died of heart failure at the age of eighty-nine. She had outlived her entire family and the final chapter of a tragic family was completed and finally laid to rest. Her funeral was conducted in a Christian ceremony in Lahore. The rites were witnessed by a select few Pakistani dignitaries, the Pakistani authorities did not allow any of her distant relatives to attend, Sikh or Hindu, nor were any Sikhs in Pakistan allowed to attend her rites, thus no Sikh was present at Princess Bamba's funeral, the last of Dalip Singh's line.

Maharaja Ranjit Singh is remembered for uniting the Punjab as a strong nation and his possession of the Koh-i-noor diamond. Ranjit Singh willed the Koh-i-noor to Jagannath Temple in Puri, Orissa while on his deathbed in 1839. His most lasting legacy was the golden beautification of the Harmandir Sahib, most revered Gurudwara of the Sikhs, with marble and gold, from which the popular name of the "Golden Temple" is derived.
He was also known as "Sher-e-Punjab" which means the "Lion of Punjab" and is considered one of the three lions of modern India, the most famous and revered heroes in Indian subcontinent's history. The other lions are Rana Pratap Singh of Mewar and Chhatrapati Shivaji, the great Maratha ruler. The title of "Sher-e-Punjab" is still widely used as a term of respect for a powerful man.

Ranjit Singh has been likened to Mehmet Ali and to Napoleon. There are some points in which he resembles both; but estimating his character with reference to his circumstances and positions, he is perhaps a more remarkable man than either. There was no ferocity in his disposition and he never punished a criminal with death even under circumstances of aggravated offence. Humanity indeed, or rather tenderness for life, was a trait in the character of Ranjit Singh. There is no instance of his having wantonly infused his hand in blood."
Many famous folk stories about Maharaja portray a leader and the inspiration Maharaja Ranjit Singh was. In one famous incident, when Maharaja was about to cross the badly flooded river near Attock (now in Pakistan and called Kabul River). One of Maharaja's generals reported this fact to Maharaja, saying that the river cannot be crossed and it is now an Atak (an obstacle in Hindi) for us. Maharaja retorted "eh Attock uhna lai atak hai, jehna de dillan wich atak hai" or "This river Attock is an obstacle for those, who have obstacles in their hearts", then crossed the river successfully. The army and other generals followed his lead.