Raj Kaur Nakai @ Maharani Nakain (Maharani Datar Kaur)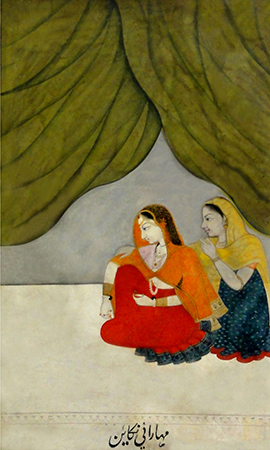 Maharani Datar Kaur (died 1838) was the second wife of Maharaja Ranjit Singh and daughter of Sardar Ran Singh Nakai, the third ruler of Nakai Misl, one of the 12 Sikh Kingdoms in Punjab. Nakai Sardars ruled countryside of Kasur District and around Lahore and was the sister of Sardar Bhagwan Singh and Sardar Gyan Singh. Originally named Raj Kaur, she changed her name to Datar Kaur as Ranjit Singh's mother was also named Raj Kaur. She was married to the Maharaja in 1798 who lovingly addressed her as Mai Nakain. In 1801, she gave birth to Kharak Singh, the eldest son and heir apparent of Ranjit Singh. She took active interest in the affairs of the State and accompanied her son when he was sent out on an expedition to Multan in 1818. She died on 20 June 1838. Her grandson was the famous Maharaja Nau Nihal Singh (1839-40) of The Country of Punjab.

Picture and Content Courtesy: Sardar Zahid Hasan Nakai (a direct descendent of Maharani Sahiba) senior advocate Supreme Court of Pakistan, Lahore. Underneath the painting is written "Maharani Nakaian" in Farsi / Urdu script.